On Friday 15 August 2014, The Minutes of Evidence project hosted a free public forum that brought together leading people in education, the arts, research, community and government, to talk about new ways of engaging with history and structural justice.
The forum featured roundtable discussions between scholars and practitioners discussing, debating and engaging with the important issue of structural and historical justice in Australia. Participants included experts in the fields of justice, education and the arts. Numerous themes were discussed and explored - including: the nature of settler colonialism in Victoria; the capacity of verbatim theatre to recreate history and stimulate broader engagement with issues of justice; the capacity of law and criminal justice to address structural injustice; the role of the arts in justice education; new ways of teaching history and justice in schools; and Indigenous and Victorian histories in the new national curriculum.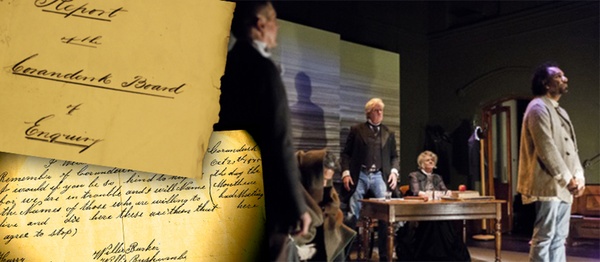 A highlight of the day was a 30-minute reading by actors of selected extracts from the verbatim play, Coranderrk: We Will Show The Country, which brings back to life the 1881 Coranderrk Parliamentary Inquiry where men, women and children of the Coranderrk community testified. The play was introduced by co-writer Giordano Nanni, and by Coranderrk descendant and actor in the performance, Pauline Whyman. 
This event was of significant interest to a wide audience including those seeking new approaches to education in history, civics and citizenship; academics interested in structural justice; staff in relevant government and community agencies; and senior school and university students. The day concluded with the official launch of the project's website, which you are currently visiting. The website ws launched by Professor Dianne Otto, from the University of Melbourne.
One of the key aims of the Minutes of Evidence project is to create 'meeting points' between the public and leading Indigenous and non-Indigenous education experts, artists, researchers, and Community members, in view of promoting new ways of engaging with historical and structural injustice through education, performance and research. The Just Encounters forum on 15 August offered one such opportunity to engage in these shared conversations. 
Click here to read the full programme for more details on the day's events, themes and speakers.